FCC Changes Related to 7 and 10-digit dialing
The Federal Communications Commission (FCC) has adopted 988 as a new three-digit number to be used nationwide to reach the National Suicide Prevention and Mental Health Crisis Lifeline, starting July 16, 2022. Customers must continue to dial 1-800-273-TALK to reach the Lifeline until July 16, 2022.
In order for 988 to work in your area code, 10-digit local dialing must first be implemented. If your area code is included in the list above, you will need to change the way you dial local calls.
What will be the new dialing procedure?
To complete all local calls, you will now need to dial area code + telephone number. This applies to all calls within your area code that are currently dialed with seven digits.
Who will be affected?
Anyone with a telephone number from your area code will need to make this change from 7-digit local dialing to 10-digit local dialing.
When will the change begin?
Beginning April 24, 2021, you should begin dialing 10 digits (area code + telephone number) for all local calls. If you forget and dial just 7 digits, your call will still be completed.
Beginning October 24, 2021, you must dial 10-digits (area code + telephone number) for all local calls. On and after this date, local calls dialed with only 7-digits may not be completed, and a recording will inform you that your call cannot be completed as dialed. You must hang up and dial again using the area code and the 7-digit number.
Beginning July 16, 2022, dialing "988" will route your call to National Suicide Prevention and Mental Health Crisis Lifeline.
What will you need to do?
In addition to changing the way you dial local calls, all services, automatic dialing equipment, or other types of equipment that are programmed to complete calls to 7-digit local numbers will need to be reprogrammed to complete calls to 10-digit numbers. Some examples are life safety systems or medical monitoring devices, PBXs, fax machines, Internet dial-up numbers, fire or burglar alarm and security systems or gates, speed dialers, mobile or other wireless phone contact lists, call forwarding settings, voicemail services and other similar functions. Be sure to check your website, personal and business stationery, advertising materials, personal and business checks, contact information, your personal or pet ID tags, and other such items to ensure the area code is included.
What will remain the same?
• Your telephone number, including current area code, will not change.
• The price of a call, coverage area, or other rates and services will not change due to the dialing change.
• What is a local call now will remain a local call regardless of the number of digits dialed.
• You will continue to dial 1+ area code + telephone number for all long distance calls.
• You can still dial just three digits to reach 711 (relay services) and 911 (emergency services).
• Any 211, 311, 411, 511, 611, or 811 services available in your community can still be reached by dialing their three-digit codes.
• The National Suicide Prevention Lifeline can still be reached by dialing 1-800-273-TALK (8255).
Who may you contact with questions?
If you have any questions regarding information provided in this notice, please call (GBT) at 785-372-4236) or access (www.gbta.net) for more information. You can also visit the FCC website at https://www.fcc.gov/suicide-prevention-hotline.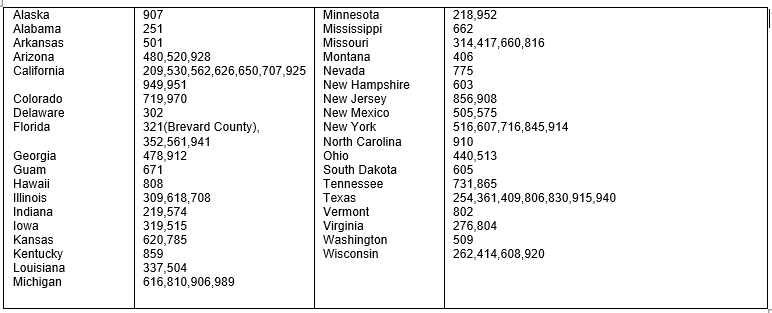 What is required to remove or change a member's name from the capital credit check?
Each scenario may vary based on the member's situation.  If a change needs to be made to the membership name, GBT requires legal documents to support the change. Both parties must sign off on any change. Please contact GBT with any questions concerning your capital credit allocations at phone number 785-372-4236.
What happens to member's capital credits of a deceased member?
The Cooperative may specially retire capital credits when it receives proper written notification that a member or former member has died.  Upon request from the appropriate representative of the member and receipt of the appropriate documentation, the Cooperative will pay the estate at a discounted rate. An heir must fill out a request for payment of Capital Credits, and it must be notarized. We also require a copy of the Death Certificate. They can apply for 40% of the unretired amount that is available to be paid.
Are capital credits taxable income?
For residential service accounts, capital credits are generally not taxable. According to Internal Revenue Service guidelines, members receiving capital credits checks in excess of $600 are sent a 1099. Consult your tax advisor for tax implications.
What are unclaimed capital credits?
When capital credits are retired, meaning a check has been issued and mailed to the member's address on record, the cooperative sometimes receives returned mail marked "undeliverable."  In the event that GBT has unclaimed capital credits, a letter will be sent to the membership in an effort to locate those members with unclaimed capital credits.  It is important update your mailing address with GBT to ensure you receive future capital credit checks.
Can I receive my capital credit allocation whenever I want?
No. Capital credits allocations are simply a record of your pro rata share of the margins. Since the capital is not held in an account and is reinvested to support the operations and growth of the business, the entire balance cannot be retired to you at once. There is no legal obligation imposed on the Cooperative to retire capital credits or to pay out the balances in full. The method, amount and timing of capital credit retirements is at the sole discretion of the Board of Directors.
What happens to my capital credits if I stop receiving service from GBT?
Allocated capital credits remain on the GBT books in your name and account number until they are retired. Capital credit retirements (payments) are made years after capital credits have been allocated. Please notify GBT of your new mailing address.
How often does GBT retire or return capital credits?
Each year the GBT Board of Directors reviews the financial status of the cooperative to determine whether a refund is feasible and if so, how much.  While capital credits are allocated every year, they are not automatically retired or refunded to the members every year. GBT uses margins (i.e. capital credits) to fund the operating activities and upgrades to your infrastructure and equipment, with the intent of repaying this capital to the members in later years.  The Board of Directors strive to operate in a prudent business manner so that the member-owners will continue to have the very best telecommunications services possible at the lowest cost consistent with sound economy and good management.
What is the difference between allocated and retired Capital Credits?
Allocated Capital Credits are amounts entered on to the cooperative's permanent financial records representing each member's pro rata share of annual excess operating margins. Every year, GBT's Board of Directors reviews the financial health of the cooperative and determines whether any previously allocated Capital Credits will be paid out to members. Capital Credits that are paid out to members are referred to as retired Capital Credits.
What is retirement of capital credit or refund?
It is the return of members' capital credits. Retiring capital credits is a way of ensuring that each generation of members pays its own way. GBT operates on an at-cost or nonprofit basis by annually allocating to each member, based on the member's purchase of services, operating revenue remaining at the end of the year. Later, as finances permit, these allocated amounts, or capital credits, are returned to members, by check.
What is a capital credit allocation?
Margins are "allocated" or assigned to members who belong to the cooperative during the year in which a margin is generated. The allocation is based on the member's proportion of service usage for that year. Each member's portion is referred to as a "capital credit allocation."
How do I know if I have Capital Credits?
You begin accumulating Capital Credits when you begin receiving telecommunications services from GBT. Members receive a statement annually detailing the status of their Capital Credit accounts.
How do I earn Capital Credits?
The amount of capital credits you earn in a given year is based on the amount of capital contributed to the cooperative through payment of your monthly bill for services and the amount of operating margins realized by the cooperative.  Capital Credits are usually retired, which means paid to the member, as a percentage of certain prior year's allocations.
How do I become a member of the cooperative?
GBT customers who are eligible for cooperative membership must live in the Golden Belt Telephone Association, Inc. service area, which includes these communities in Kansas: Albert, Alexander, Bazine, Beeler, Bison, Brownell, Burdett, Ellis, Garfield, Lewis, McCracken, Ness City, Otis, Ransom, Rozel, Rush Center, Timken, and Utica.  Customers in these areas must subscribe to telephone to qualify for membership.
What are capital credits?
GBT is a not-for-profit cooperative that is owned by its members. Capital Credits are one of the many benefits of membership in the cooperative. At the end of each year, any excess operating margins are allocated to GBT's members that received service during that year in the form of Capital Credits. The amount of excess operating margins, if any, varies every year. Capital Credits are generally either allocated as equity on the cooperative's books to accounts associated with each member, or distributed as a cash patronage refund.
What if I forget my GBT Online password?
There are two options available if you would like to change your GBT online account password:
You may call Customer Service at 785-372-4236. Please have the following information ready before you speak with our representative: User ID, Name, Address, Customer Account Number and Customer Account PIN. You can also change your password here: https://estatement.gbta.net/estatement/Login?returnurl=%2Festatement%2F
What if my payment is late?
If your payment is late, or if your service has been disconnected, we recommend you deliver your payment by check or cash directly to your local GBT office, where your payment will be posted immediately.
What if I make a partial payment?
Telephone service is a lifeline utility, so all monies will be applied to your telephone account balance first, and additional monies will be applied to your cable television and/or Internet account.
When will my payment be applied to my account?
Your payment will be applied to your account within two business days.
When you make your payment to your Online account by credit or debit card you will receive a confirmation number. Keep the confirmation number in a safe place until you know the payment was posted to your account. If your payment is not posted within the 48-hour period, please call our Customer Service department at 785-372-4236, so we may assist in researching the payment.
Which accounts can I access and make payments to with Online Bill Pay?
Your online GBT account allows you to pay your GBT account for telephone, Internet and/or cable television services.
How does GBT's Online Account work?
Once you register online to activate your online account, you will be able to log into your account over a secure, encrypted connection and manage the payment of your bills via the Internet and a standard web browser. GBT has found Google Chrome, to provide the best compatibility in display of your account information and operation of the online service.
What is GBT's Online Portal?
GBT Online Portal is an online service that allows you to access your GBT bill via the Internet. With online access you are able to print copies of past bills, monitor charges to your account and make payments via credit card or debit card.
[su_button url="/contact-us/" style="flat" background="#1f419b" color="#fff" size="8″ radius="5″ icon="icon: envelope" icon_color="#fff"]Contact Us[/su_button][su_button url="https://twitter.com/goldenbelttel" style="flat" background="#1f419b" color="#fff" size="8″ radius="5″ icon="icon: twitter" icon_color="#fff"]Follow us on Twitter[/su_button][su_button url="https://www.facebook.com/goldenbelttelephone" target="blank" style="flat" background="#1f419b" color="#fff" size="8″ radius="5″ icon="icon: facebook" icon_color="#fff"]Like us on Facebook[/su_button][su_button url="https://gbta.bomgarcloud.com/" target="blank" style="flat" background="#1f419b" color="#fff" size="8″ radius="5″ icon="/wp-content/uploads/2019/01/Bomgar-orange.png"]Remote Assistance[/su_button]