RUSH CENTER, KS – JULY 2020: 
GBT held a Special Meeting of the Members July 13, 2020, at the Main Office in Rush Center. With the cancellation of the March 30 Annual Meeting due to the COVID-19 Pandemic, the Board of Trustees called the Special Meeting in order to elect Districts 2 and 4 Trustees and consider a Bylaws amendment to provide alternative methods of voting.
In consideration of CDC recommendations, the Special Meeting was held as a Drive-Thru Event.  The 74 members who attended were able to vote, receive door prizes, and be served a grilled hotdog and hamburger meal, all from the comfort of their vehicles!
Drawings were also held, and the lucky winners were:  $250 Capital Credits Retirement – Bill & Lois Price (Rozel), Craig & Carol Scheuerman (Bison); 1 Month Free Internet – Terry Harrold (Ness City), Julie Wagner (Rush Center); Firestick and 1 Month Free StreamIt – Jim Holopirek (Timken), Kevin Brewington (Rush Center); $50 Cellular Accessories Gift Certificate – Marge Moran (McCracken).
Gene Knieling and Philip Martin were re-elected to another term as Trustees, and the proposed Bylaws amendment was approved.
We want to thank everyone who attended and made the Drive-Thru Event a huge success!
OTHER PRESS RELEASES FROM GBT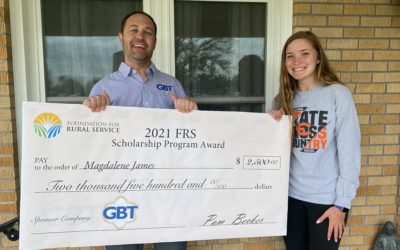 For Immediate Release Contact: Lauren Gaydos, lgaydos@ntca.org, (703) 351-2015 GBT Announces Scholarship Recipient Arlington, Va., (May 14, 2021)—Today Golden Belt Telephone Association, Inc....
read more