For Immediate Release
Contact: Lauren Gaydos, lgaydos@ntca.org, (703) 351-2015
GBT Announces Scholarship Recipient
Arlington, Va., (May 14, 2021)—Today Golden Belt Telephone Association, Inc. announced Magdelene James, Ellis, has received a $2,500 scholarship through the Foundation for Rural Service (FRS). Founded in 1994, FRS is the philanthropic arm of NTCA–The Rural Broadband Association, of which GBT is a member.
The FRS Scholarship Program awards one-time scholarships to students from rural communities for their first year of college, university, or vocational-technical school. Each student is sponsored by an NTCA-member company that also contributes a portion of the scholarship award.
"FRS is honored to be able to help the students served by NTCA member companies as they head off to their first year of school," said FRS Executive Director Pam Becker. "Congratulations to Magdelene for receiving this scholarship and thank you to GBT and all our donors who make the FRS scholarship program possible each year."
"The fact that her application was one of 33 selected out of 750 applicants nation-wide is a testament to Maggie's commitment to her future," said GBT General Manager Beau Rebel.  "GBT is proud to be a part of the FRS Grant Program to give our area youth added opportunities to further their education."
A full list of scholarship awardees and the NTCA member companies who are partnering with FRS to make the funding possible is available at www.frs.org/programs/youth-programs/scholarships.
###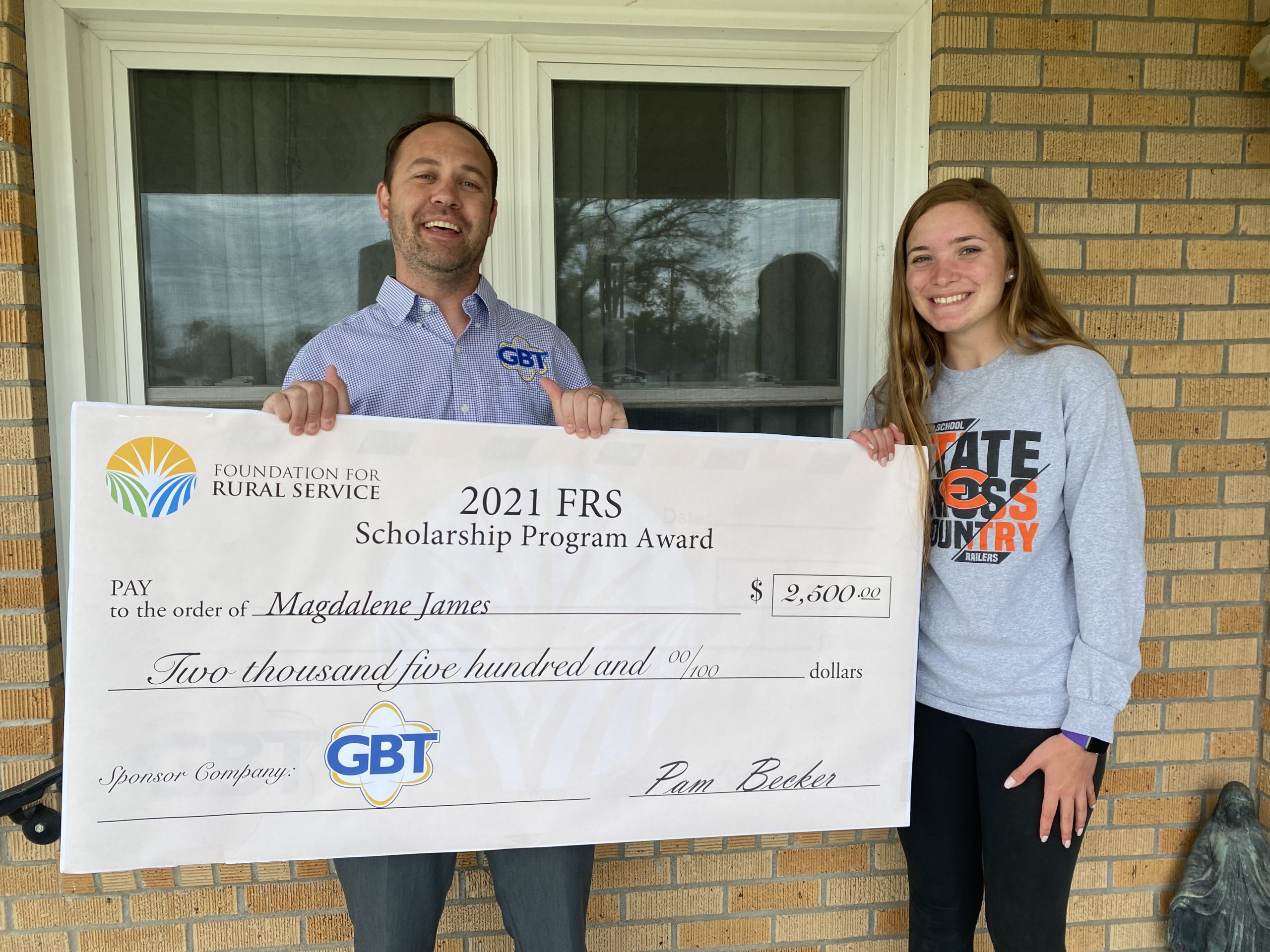 The Foundation for Rural Service (FRS), the philanthropic arm of NTCA–The Rural Broadband Association and its members, seeks to sustain and enhance the quality of life in rural America by advancing an understanding of rural issues. Through scholarships, grants, and a variety of educational programs, FRS focuses on educating rural youth, encouraging community development and introducing policymakers to challenges unique to rural communities. Visit us at www.frs.org.
NTCA–The Rural Broadband Association is the premier association representing nearly 850 independent, community-based telecommunications companies that are leading innovation in rural and small-town America. In an era of transformative technological advancements, regulatory challenges and marketplace competition, NTCA members are leading the technological evolution for rural consumers, delivering robust and high-quality services over future-proof networks that make rural communities vibrant places in which to live and do business. Because of their efforts, rural America is fertile ground for innovation in economic development, e-commerce, health care, agriculture and education, and it contributes billions of dollars to the U.S. economy each year. Visit us at https://www.ntca.org.
OTHER PRESS RELEASES FROM GBT
RUSH CENTER, KS - OCTOBER 13 2020: GBT is excited to announce we have been awarded a Connectivity Emergency Response Grant from the Kansas Department of Commerce to build a Broadband Wireless...
read more